Pet-Friendly Guide to Kununurra
 Travelling with pets can be stressful between finding accommodation, dining out, where you can go what attractions, you can see so your loyal companion can enjoy the adventure as well.  we have put together a Pet-Friendly guide to make your families holiday a memorable one in Kununurra.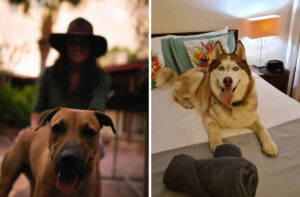 Your Stay at Kimberley Croc Motel
Onsite we have our friendly doggy welcomers Scruffy and Maxxi and sometimes Chocolate and Trixx when they feel like working.
if your dog is nervous around smaller dogs, please let us know so we can make your check-in as easy as possible.
On arrival, we offer all pets the full star treatment with a "doggy bag" with treats and a full guide to all the best places to take your pets. (rethink this bit with email and website)
We ask all dog owners to use a lead when using our facilities or just roaming and enjoying our lush tropical garden grounds, if your dog is a guard dog/ hyperaggressive or assertive we ask that you use a dog muzzle, as we have other dogs, children and guests who are here on holidays and want to have an amazing adventure in the Kimberley.
Our designated pet-friendly rooms come equipped with all your needs and your four-legged friends are well provided for each room has bedding and food bowls we aim to please all our guests even the furry Kind.
Our secure pet ensuite provides an area for all pets to wander and have a play, and as the name suggests for that, other business we provide poop bags and cleaning equipment. Pet Friendly Rooms
Pet-Friendly Dining Out
Cornerside Café
Cornerside café is one of our favourite places to enjoy breakfast, lunch or an amazing coffee you and your pet can sit outside the café they also provide water bowls. Cornerside Cafe
Wild Mango Café
Wild mango has outdoor seating where you can take in the hustle and bustle of Kununurra's town centre for breakfast, lunch and Gelato, bring your loyal friend and take in Kununurra. Wild Mango Cafe
Ivanhoe Café
Bring your entire family, even the furry ones, dine under the large mango trees, and delight in breakfast, lunch, and homemade desserts. Don't forget to try one of their delicious mango smoothies. Ivanhoe Cafe
The Barra Shack
Is a local's favourite fish and chip shop which is located on-site you can sit outside of the Barra shack or take your fish and chips back to our garden and relax under the Kimberley stars with your fur baby. The Barra Shack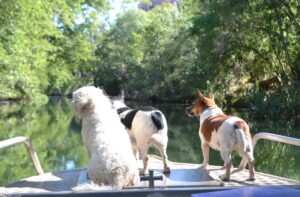 Things To Do
Lake Argyle Cruises
provides amazing cruises on lake argyle, they can mind your pet while you are on your tour or you can take advantage of their BBQ Pontoon boats which are pet and child friendly, take in the scenery at your own pace and just relax. bookings essentials  HOME – New Lake Argyle Cruises Tours and Actives
Swim beach
Is the perfect place for you and your pet to get of the leash and enjoy the cool waters of the upper Ord River.
Kelly's knob
View Kununurra from another perspective Kelly's Knob is a great lookout that overlooks Kununurra, the steep hill is a great place to take your pet for a walk and stretch their legs, at the top are amazing views of the town and the surroundings, our favourite time to go is at Sunrise and Sunset.
Celebrity Tree Park
Celebrity Tree Park is a unique spot in Kununurra each tree has been planted by someone famous or a local legend take a walk amongst trees beside lily creek lagoon, pets need to have a leash at all times. Be Croc wise sometimes you may get a glimpse of a freshwater crocodile.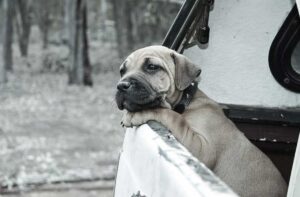 Your Pet Needs
Camping Clothing & Rural Supply
offers a 24-hour DIY dog wash for $10 by card only, your dogs will get the full treatment shampoo, conditioner, tick, and flea rinse as well as a blow dry.
Camping Clothing & Rural Supply – Home | Facebook
Cambridge Gulf Limited
CGL is open 24 hours and has a brand-new dog wash bay to pamper your fur babies while you fuel up.
Latest Updates From Cambridge Gulf Limited | Facebook
Kimberley Vet Centre
Can assist with any medical issues or pet supplies.
10 Leichardt St (on the corner of Riverfig Ave & Leichardt St)
(08) 9169 1229
For more information Kimberley Vet Centre – Home | Facebook
Pet boarding
Pet boarding in Kununurra is limited, Rebecca will take good care of your furry friend even if it's just for the day or long term.
Rebecca Vickers
0428 810 535
Starting at $20 per day for longer stays discounted rates apply
Please call Rebecca to arrange bookings
Pick up and drop off available, additional fees may apply